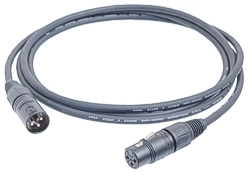 Audio and video pros who have  all sorts of random "how to wire it" data rolling around in their heads can now turn the task over to their smart phone and stop even pretending that they remember how to wire all the cables in their work boxes.
This free app (available both for iPhone and android devices) provides diagrams for all the popular audio and video connectors that you might expect to encounter during a day at work.
In addition to common connectors like XLR3 and Speakon, it also includes data connectors, Socapex multicables and HDMI, all diagrammed in an easy to read format.
Just enter "pinouts" in your apps search field.
GoodBuyGuys.com is your online source for Permacel gaffers tape,Duracell Procell batteries,  Nashua duct tape, Bay State wire ties, Hosa and Entertainment One extension cords and OnStage Stand mic stands.  Our Hosa & MI cables use industry standard XLR connectors.