I got lots of interesting comments on my blog about the spacing of the receptacles on wall outlets. Many readers shared my frustration about how this ancient design no longer meets modern users' needs.
Rather than accept my resignation that there were too many (billions!) of these in use,  a company called Power2U has actually addressed the problem.
Instead of fighting the the unwinnable battle of changing the standard, they just improved on it.
Realizing that the spacing of existing outlet receptacles could not be changed because the outlets would no longer fit in their designated wall space, this company has added a feature that keeps you from ever having to plug a space hogging outboard power supply into the wall in the first place.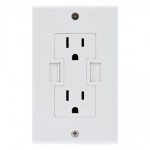 They have added usb ports to an  duplex outlet that is designed to replace what is now standard, without having to made any changes to the wall or worrying about compatability with your other devices.  Now you can charge multiple items with usb ports without using the charger at all.
This new outlet is reasonably inexpensive ($11.50-about four times the cost of a standard duplex outlet) and can be installed by any homeowner with basic tools and minimum skill.
Read more here.
Order by clicking here.
GoodBuyGuys.com is your online source for Protape gaffers tape, Duracell Procell batteries,  Nashua duct tape, Bay State wire ties, Hosa and Coast Wire extension cords and OnStage Stand mic stands. Count on us to meet your power distribution needs.