Most "failures" of  sound equipment and other electronics are not component failures at all, but rather they are cable failures.  The cables that interconnect system components take a lot more punishment than the hardware they hook together and this is where the problems usually start.
If you want to make sure that your connecting cables are working properly, take a look at what Hosa now has.
Hosa's new CBT-500 tests more cables in more ways than any other tester we have ever seen.  And, it does it at a very reasonable price.
Check out this list:
Speakon NL8-Ethernet-USB-DIN-RCA-1/4 Inch-Speakon NL4-Speakon NL8-XLR3-XLR5-Banana.
The can all be tested with this easy-use-device.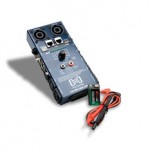 All are testtable with this handheld device.  It also includes a set of test leads for continuity testing and a nine volt battery.
Click here for more information.
GoodBuyGuys.com is your online source for Protape gaffers tape, Duracell Procell batteries,  Nashua duct tape, Bay State wire ties, Hosa and Coast Wire extension cordsand OnStage Stand mic stands.