I wonder who was the person who came up with that ubiquitous sign you see on almost every business's door, the one with the orange block letters on the black background that says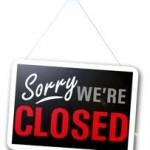 I know you're closed.  I can tell because the door is locked and the lights are out.
What the sign really says is "we don't want your business".  No information about when they will reopen.  Nothing in the way of getting in touch.  No enticement to get me to come back.  Just a message that says " we don't know that you are here and we don't care."
I'm glad that your business is so good that you don't need mine.  Maybe I'll try the store across the the street whose sign says "Welcome".

GoodBuyGuys.com is your online source for Permacel gaffers tape,Duracell Procell batteries,  Nashua duct tape, Bay State wire ties, Hosa and Entertainment One extension cords and OnStage Stand mic stands.  Occasionally we also rant!