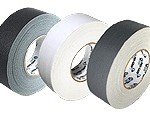 When we started selling adhesive backed tapes back in the 1980's, information regarding manufacturers, specifications, name brands, etc. were pretty straight forward
Over the last 25 years we have continued to see consolidation of manufacturing and brand names in a process that should have made information easier to obtain, but, instead have made it more and more difficult.
In the early years of our company a roll of tape (gaffers, duct, cloth, paper, you name it) was two inches wide and 60 yards long. Seems like it had been that way forever.
The first major change was reducing roll sizes to a metric dimension (55 mm) from imperial (2 inch), but the industry continued to refer to the products as two inches.
Following that change came a number of consolidations among manufacturers and converters who held on to parts of a product's name or description but not others. Perhaps the most obvious example came when Shurtape (which already made and branded gaffers tape) bought the rights to Permacel's line of gaffers tapes. In addition to making their own brand of tape, Shurtape was also the maker of Permacel 665 and Permacel Professional Grade gaffers tape. A couple of years later, the Shurtape's rights to use the Permacel brand expired, but they continued to make the product, rebranded as Shurtape A&E Gaffers Tape while continuing to make the Shurtape brand as well.
As if that was not confusing enough, lots of vendors (primarily online) continue to call these products Permacel years after the brand was gone.
Now, to add to the confusion, Shurtape and their distribution partner, Pro Tapes & Specialties, have downsized the standard roll of gaffers tape from 60 yards to 55 yards. Most web sites that sell these products still describe them as 60 yard rolls, even though they have been shipping the 55 yard rolls for almost a month.
With so much information in control of so many providers, some of whom don't seem to think the details really matter, it is unlikely that there will ever be a "standard" roll of gaffers tape ever again.

GoodBuyGuys.com is your online source for Permacel gaffers tape,Duracell Procell batteries,  Nashua duct tape, Bay State wire ties, Hosa and Entertainment One extension cords and OnStage Stand mic stands.