If you check by here periodically, you may remember that I wrote about a change in Permacel 665 back in February. The focus of my post was about how pricing on Permacel 665 gaffers tape was out of sync with the rest of the industry and how I anticipated that further changes were in the wind.
Were they ever!
Without any warning, a pallet of gaffers tape that hit our loading dock last week was in Shurtape boxes, even though we had ordered Permacel 665. The boxes were the familiar red and white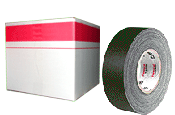 and the product info said 665, but the name Permacel did not appear anywhere on the carton. The name that has been synonymous with gaffers tape since it was first brought to market had simply disappeared.
The next day brought a couple more surprises. When we received shipments of Permacel Professional Grade Gaffers Tape and Permacel 724 Paper Label Tape they were also in red & white Shurtape boxes with Shurtape cores. The "724" and "Professional Grade" product designations survived, but, again, no sign of the name Permacel anywhere.
Since we got no advance warning about this branding change, we were not able to build up any significant inventory of these products with the Permacel brand. Anything you get from us from now on will be Shurtape, not Permacel.
We are beginning the task of chaning the info in hundreds of web pages to show this change. We appreciate your patience and apologize for any confusion you might encounter.
If you would like to know a little more about this branding change, here is a link.
GoodBuyGuys.com is your online source for Shurtape gaffers tape, Duracell Procell batteries, MagLite flashlights, Nashua duct tape, Bay State wire ties, Electratrac and Coast Wire extension cords, OnStage Stand mic stands, and lots of other useful tape products.