Duracell is getting lots of press for their promotional stunt of using a bunch of bicycle-powered generators to power the 2009 sign that will appear in Times Square on New Years Eve.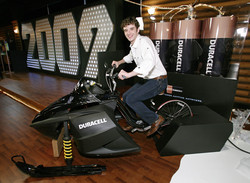 While this may get Duracell lots of notice for their batteries, it has to be the most  inefficient method of  generating electricity ever invented.
In order to light the four numbers in the 2009 sign for 10-15 minutes, visitors to Duracell's Power Lodge in Times Square will have to pedal at least 230 hours to store enough battery power for this stunt.

Even at the minimum wage, that puts the cost of producing this power at over $1500.00 ($100.00 per minute), and that doesn't include the cost of the custom "snowbikes", the batteries (not Duracell) that will store power, and the cost of operating the Power Lodge for the month leading up to New Year's Eve.
Before you invest in Duracell's idea of how to generate green power, you probably ought to take a look at this video .
GoodBuyGuys.com is your online source for Shurtape gaffers tape, Duracell Procell batteries, MagLite flashlights, Nashua duct tape, Bay State wire ties, Enterainment 1 extension cords , OnStage Stand mic stands and quality speaker cables.